Vacation does not have to be luxurious or lavish. 

However, if you are on a honeymoon or more meaningful, luxurious vacation as opposed to a backpacking trip, hotel plays a huge role. Four Seasons Resort Oahu at Ko Olina is a great choice for couples and families celebrating special events and occasions. The hotel is well-intended for guests wanting to recharge and seeking romantic getaways.

There are many reasons to choose this hotel for your stay in Oahu, but here are the 8 best reasons.

   1. 휴양지로서 최상의 시설과 분위기를 자랑하는 코올리나 지역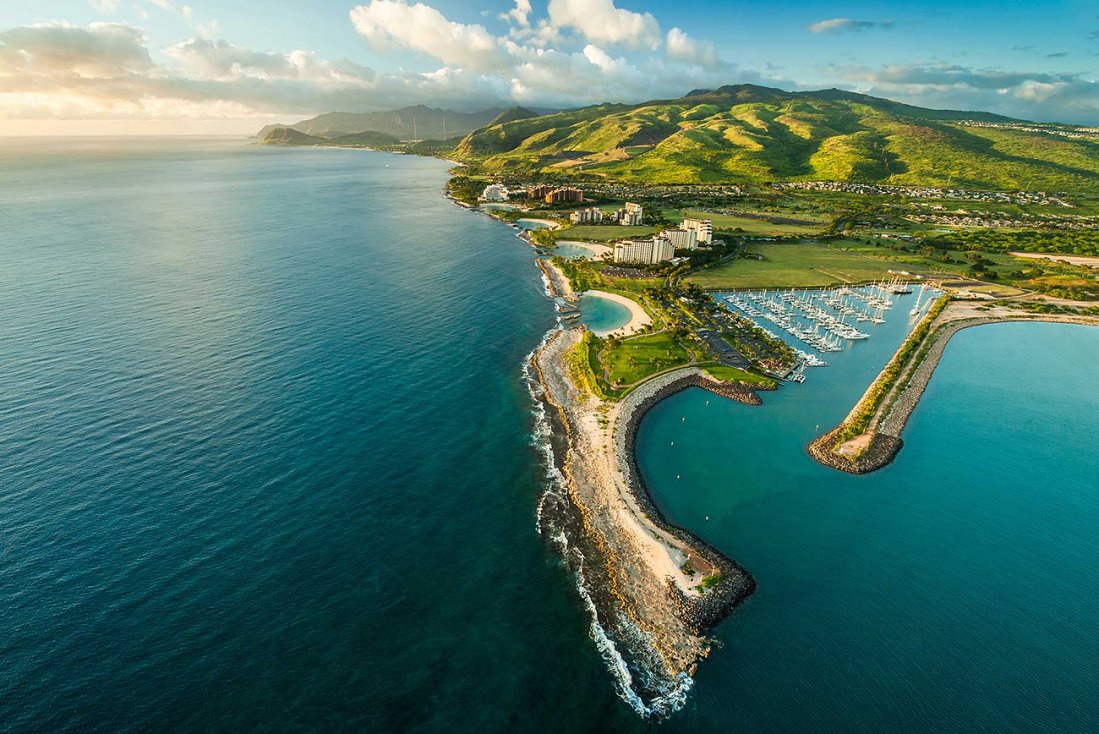 Most visitors to Oahu are familiar with the famous Waikiki and usually book their stay in the area. Often overlooked, Four Seasons Resort Oahu is located in Ko Olina, approximately 27 miles from Waikiki. The resort is known for its picturesque surroundings and close proximity to Daniel K. Inouye International Airport. Even if you are not familiar or have not heard of Ko Olina, you may have seen it several times on TV as it has hosted the LPGA games before. Ko Olina means the land of joy and is located on the western side of Oahu, about 50 minutes away from Waikiki. Ko Olina boasts breathtaking natural scenery and rich culture. It is also known for year-round sunny beach accessible for fishing and surfing and the majestic Waianae Range view. With several resorts in the area, Ko Olina offers amenities, restaurants and bars you can enjoy just as much as if you were to stay in Waikiki. 

The region also offers various outdoor lifestyles and leisure activities such as swimming, snorkeling, fishing, scuba diving, sailing, surfing, and sunset dinner cruise throughout its lagoon and seaside promenade. Ko Olina is also popular for leisures including spa and golf and is a great location for destination weddings and beach parties. Ko Olina embodies elegance, style, privacy, and extravagance.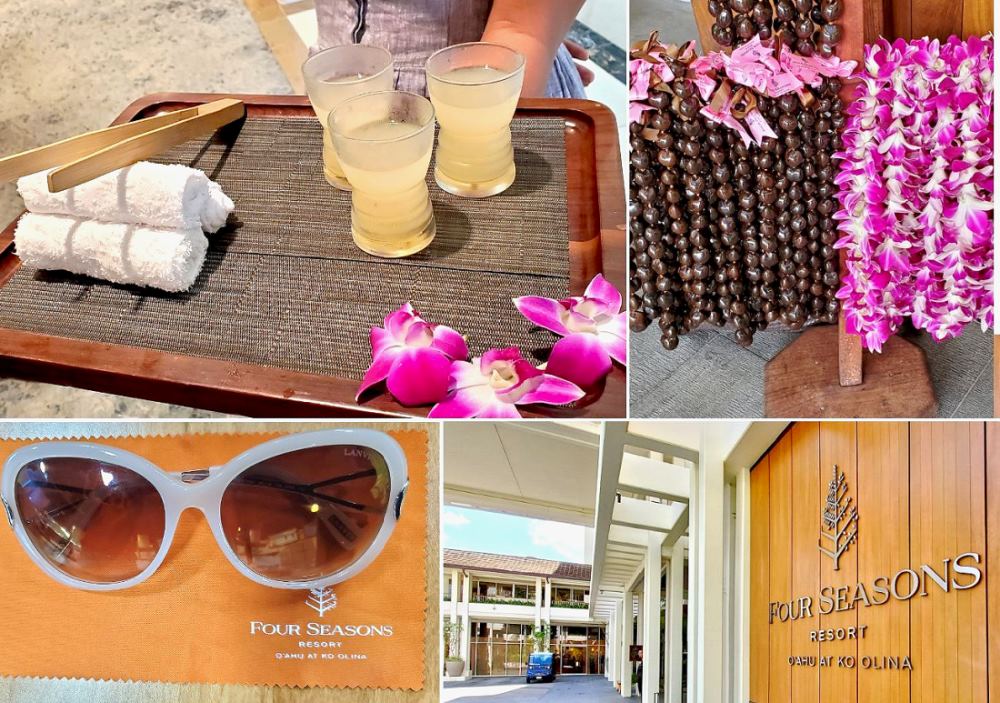 Welcome service at Four Seasons Resosrt Oahu is exceptional. Upon arrival, guests are welcomed with leis – Kukui leis for men and flower leis for women – and refreshing drinks along with cold wet towels for the hands. The hotel employees exemplify warm hospitality with great level of professionalism and generosity. Of course, service items and methods are slightly different, but many other five-star resorts in Hawaii offer similar welcome services as well. However, Four Seasons in Ko Olina adds more personal touch to its services for the guests. Guest room services are exceptional as well. The room service attendants are meticulous and attentive to details. They will have your phone charger rolled up and neatly placed on the table and place cleaning cloths for your sunglasses. After a full day of excursion, you will return to your organized and tidy room. Turndown service is provided as well.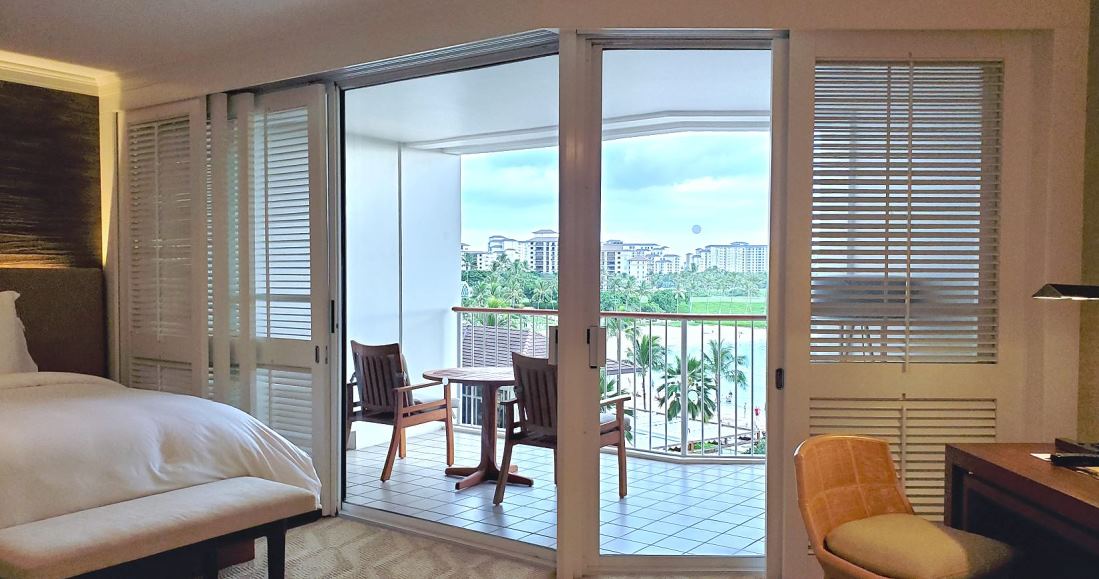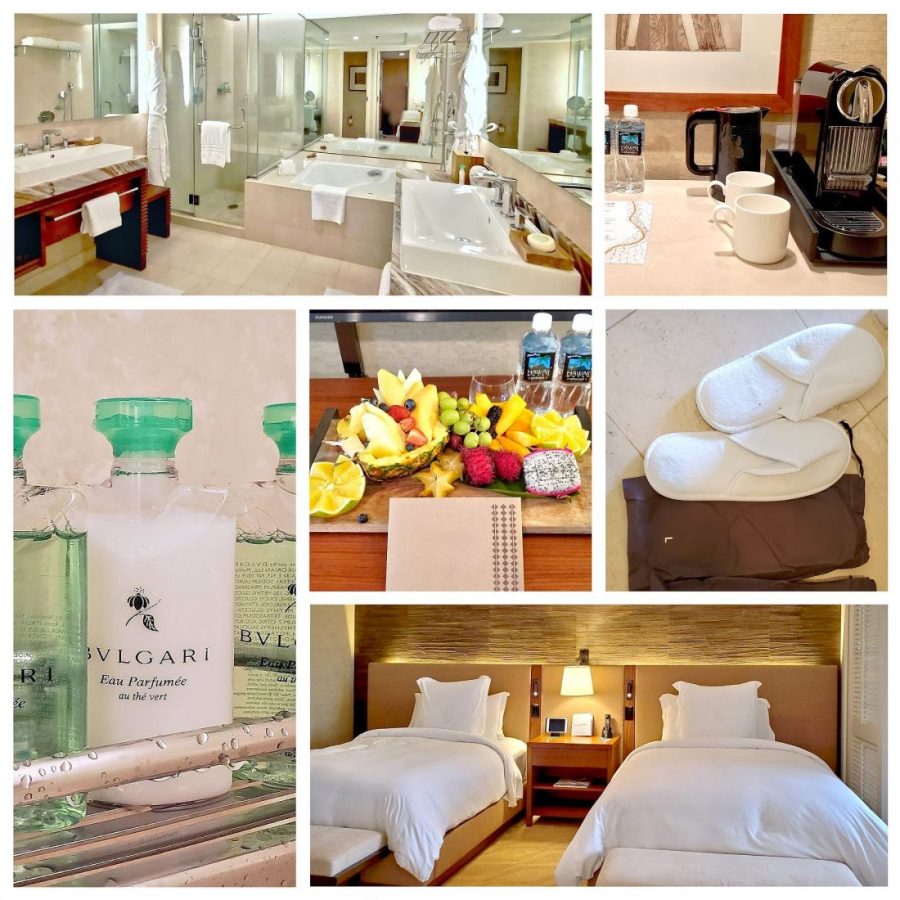 Non suites at the resort are approximately 640 sq ft, which is typically larger than most one-room apartments in Hawaii. In each room, a coffee maker, electric kettle, mini fridge and slippers are ready for use. Generally, you can tell the quality of a hotel just from its bathroom size and interior design. Guest room bathrooms at the resort are spacious and luxurious and come with high-quality shampoo and conditioner enough for an entire family.  Terraces are also spacious and offer spectacular views of the ocean and Ko Olina, which is great for relaxation. 
 4. 리조트 여행을 두배로 즐겁게 만들어 주는 호텔 음식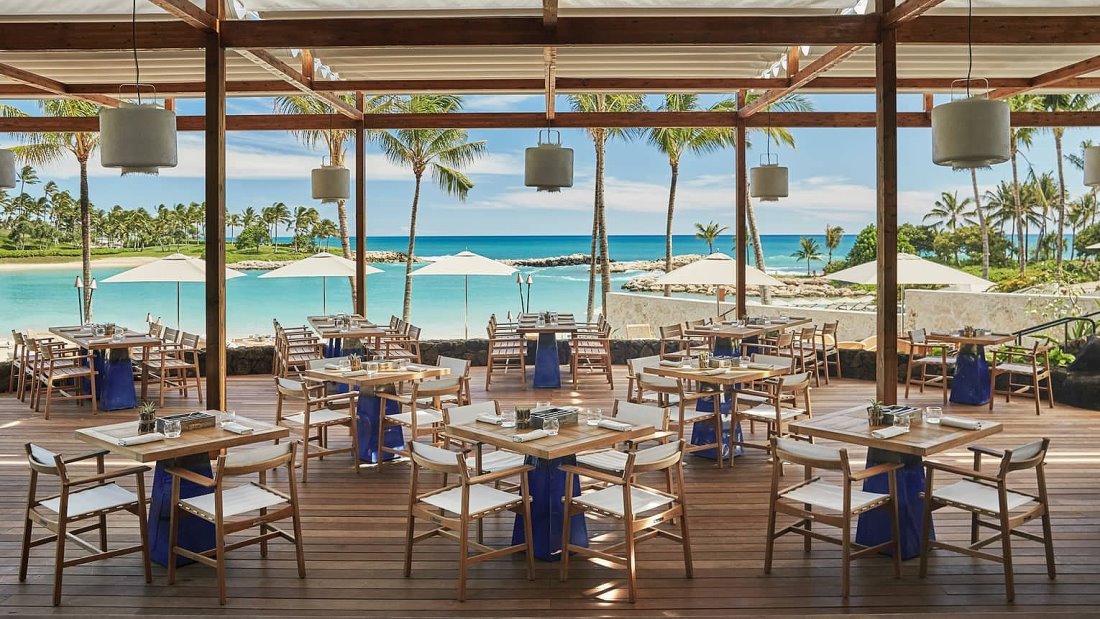 You will spend a good amount of money when dining at the restaurants in Four Seasons at Ko Olina. Trying out the restaurants at the resort is essential if you want a full resort experience and exposure. The resort has four restaurants & a lounge: Mina's Fish House, La Hiki, Noe, Waterman Bar & Grill, and Hokulea. Each of the dining commons is unique and has distinctive qualities. La Hiki is an award-winning breakfast buffet known for lavish and healthy menu and during dinnertime, the restaurant transforms into a luxurious steak restaurant. Mina's Fish House is known for seafood and a great view of the ocean. Mina's reputation is highly regarded as it is one of James Beard's award-winning star chef Michael Mina's restaurants. With exceptional food quality, great service and sophistication, the experience you will have at Mina's will be one for the books. And if you want to taste a formal, high-end Italian cuisine, you can go to Noe Restaurant, which is a luxurious restaurant tailored to a more formal evening. In addition, you can enjoy a wide variety of menus while staying at the resort, such as Waterman Bar & Grill for casual lunch or snacks next to the family pool, and Hokulea in the Lobby lounge where you can enjoy live music.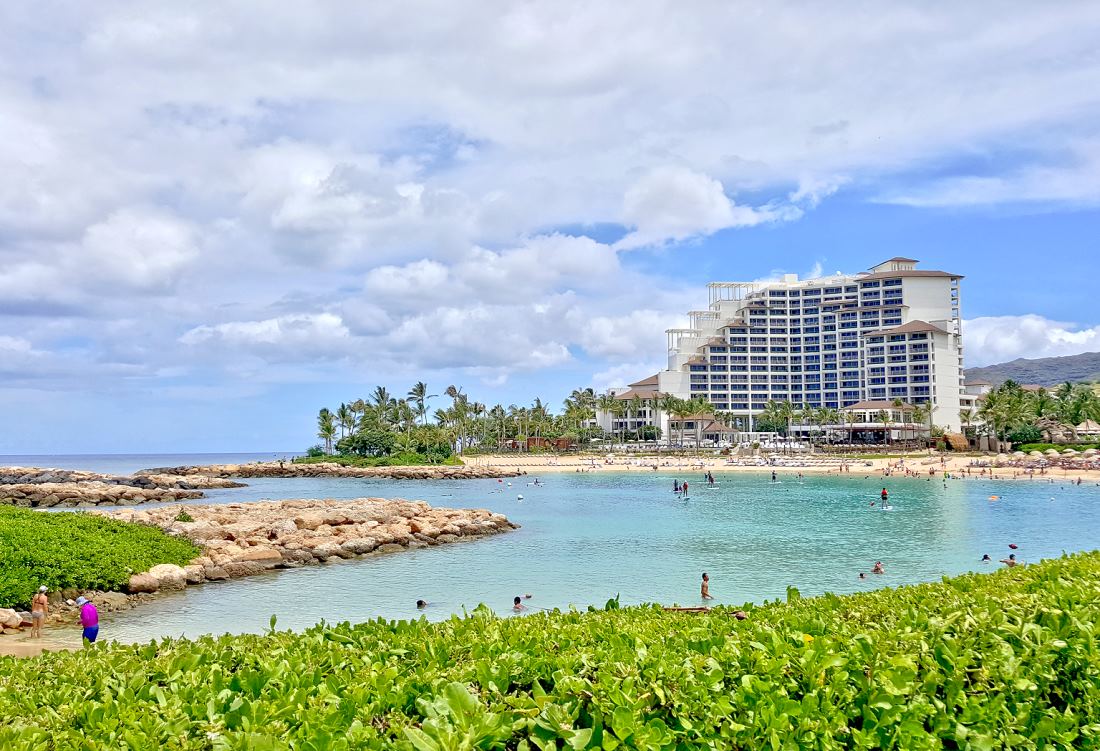 In Ko Olina, there are four man-made lagoons along the coastline of more than 1.5 miles, and there is a large white sandy beach connected to the coastal promenade suitable for jogging or walking. With stunning views of nature, the lagoons are popular among swimmers, snorkelers and paddlers. You can also see the lagoons from hotel rooms, restaurants and swimming pools at the resort.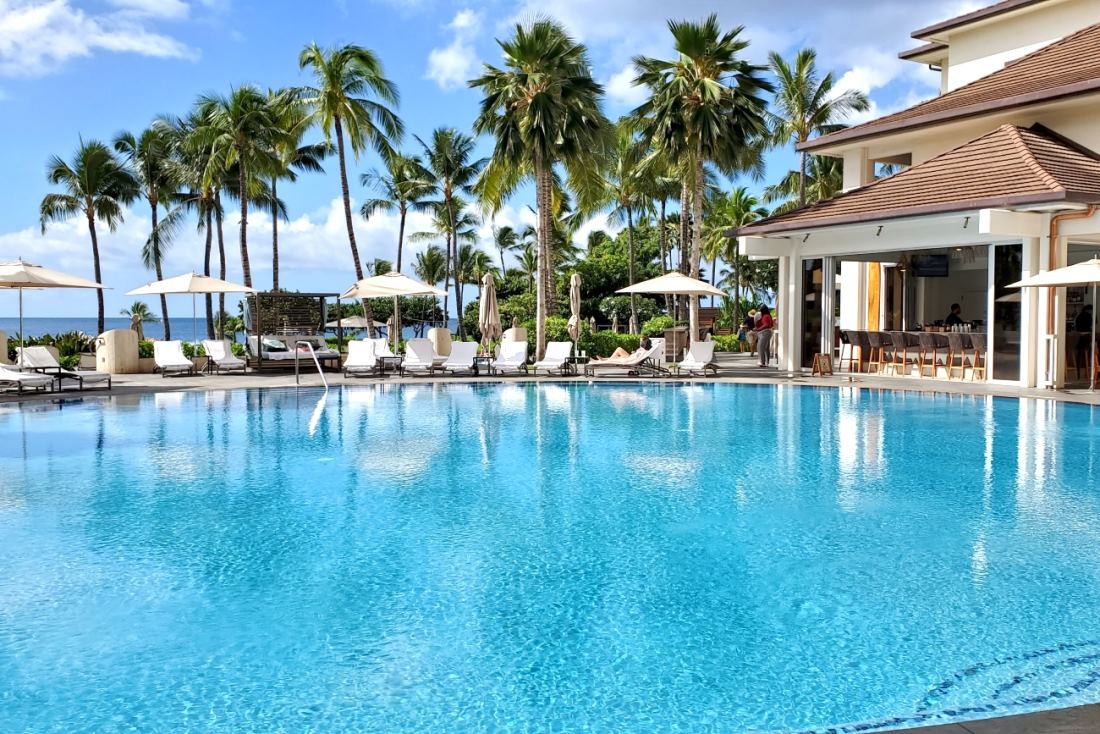 Staying at beach resort provides more opportunities for water sports including swimming, snorkeling, paddling and boating. If you are looking for more relaxing leisure, the hotel pools provide just that. With numerous cabanas and beach chairs laid out throughout the pool area, you can loosen up and enjoy the beautiful views while sipping on tropical cocktails. The infinity pool stretches out to give the illusion of the pool connecting to the ocean. There are Jacuzzis and kids pool too. Four Seasons at Ko Olina truly lives up to one's expectation of a great resort with four splendid pools that everyone in different age groups can enjoy.
Ko Olina Center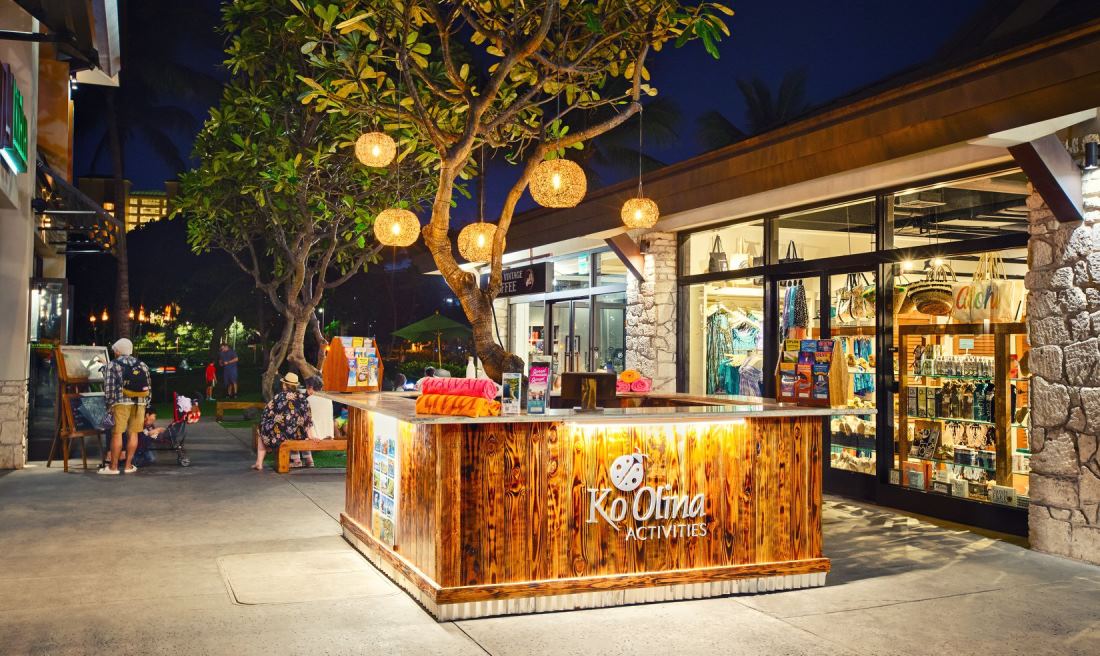 ---
Close to the resort, there is Ko Olina Center within walking distance. You can find various restaurants, shops and services. There is also a large convenience store, Island Country, which is operated by ABC Store chain. At Island Country, all kinds of essentials and wants such as medicines, snacks, food, alcohol, souvenirs, and fresh deli are offered. You can also find beach clothes, towels, and shoes. Island Country is recommended if you need cheap sandals and convenience items. There are also restaurants and coffee shop at Ko Olina Center. Monkeypod Kitchen by Merriman is a famous restaurant in Hawaii that has a great outdoor space for customers to sit and enjoy homemade beer, light meals and splendid atmosphere. At the center, Hawaii's one of the best coffee chains, Island Vintage Coffee can be found. There is also Hawaii's famous brunch chain, Eggs 'n Things. There are numerous other shops and retails that sell accessories, clothes and Hawaii goods.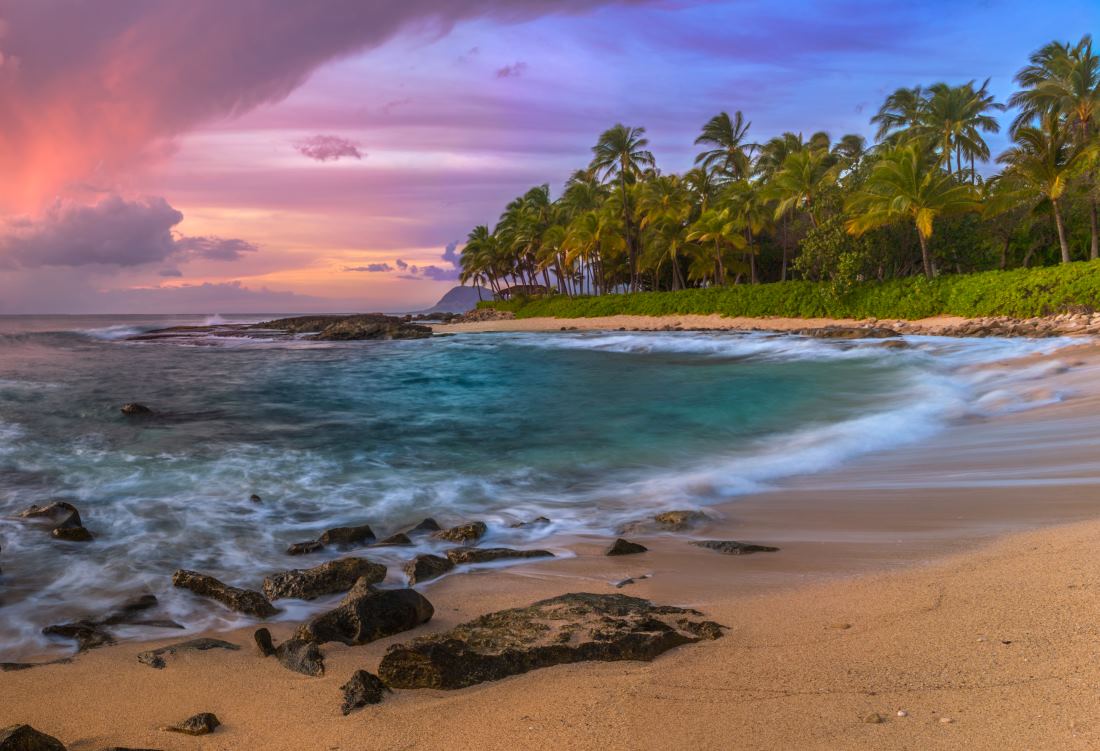 One of the best reasons to book your stay at Four Seasons in Ko Olina is its hidden gem, the secret beach next to the hotel. Within a short walk on the promenade from the resort, this small beach can be found. You can delight in the beauty of Oahu's west coast undisturbed. When you go in the water, you can get glimpses of sea turtles swimming in peace. Watching sunset at this beach will be one to remember as it is absolutely stunning and majestic with the sea and sky turning bright orange. The resort offers great quality stay and privacy where you can feel the breath of nature.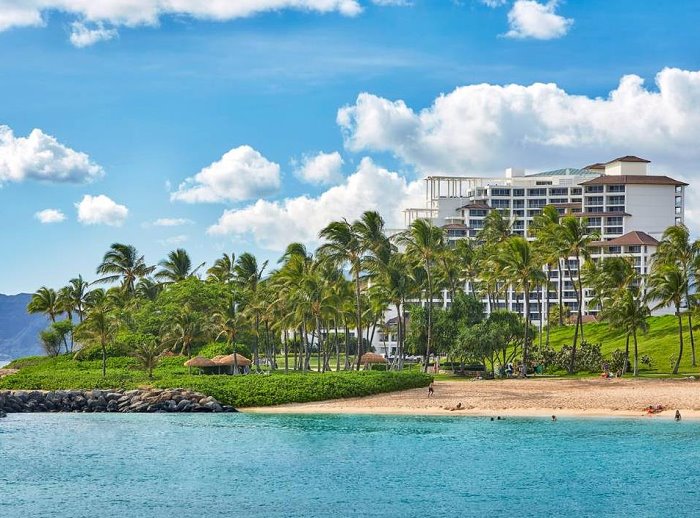 Four Seasons Resort Oahu at Ko Olina
Four Seasons Resort, one of the world-renowned global hotel and resort chains, is the icon of luxury hospitality. There are 4 Four Seasons Resorts in

Hawaii. For over 27 years, the resort chain has provided premium and luxurious services in Hawaii. Many celebrities choose one of these 4

Four Seasons Resorts to stay when visiting Hawaii.

 Four Seasons at Ko Olina offers high quality service and meets your highest level satisfaction

. If you want to experience quality and luxurious stay, Four Seasons at Ko Olina meets your expectation.

 This general area of

Ko Olina has other luxury resorts located on the west side of Oahu, about 50-minute drive from Waikiki. Step into the fantastic paradise of Ko Olina.
Four Seasons Resort Oahu at Ko Olina is often referred to as Ko Olina's jewel that combines Hawaiian style with the elegance of a Four Seasons resort. The resort features 371 rooms, suites and private Lanais. There are four restaurants and a lounge. You can enjoy seafood, steak, Italian and Hawaiian menus at Mina's Fish House, La Hiki, Noe, and Waterman Bar & Grill. In the lobby, Hokulea lounge is a great place to order drinks and enjoy live music. You can always order room services as well.

In addition, other amenities include spa and pool facilities, and children's activities are available as well. Some of the water activities include fishing, snorkeling tour, sunset cruise, and whale watching. Golf options at Ko Olina Golf Club are also available.