–  One of the best things to do in Waikiki!  Rock-A-Hula!
This is the newly updated tourist information for 2023. 
Rock a Hula is Waikiki's biggest and most popular show. Located in the heart of Waikiki, getting to the venue is convenient and accessible. In the program, you can enjoy Hawaii-themed luau dinner buffet, and then enjoy the extravagant show in the theater to experience Hawaiian history from the 1920s to the present through the show's 'Hawaiian Journey' performance.
The composition of Rock-a-Hula performance is very moving, interesting, and thrilling. Its various and interesting non-stop entertainment from beginning to end is very unique from Hawaiian traditional shows. The show is entirely in live singing, dance and band performances, including that of Polynesian hula dancers and experienced impersonators of Elvis Presley and Michael Jackson. The show elicits all kinds of emotions and delivers unique experience to the patrons. After almost 80 minutes of thrills and nostalgia, Rock-a-Hula concludes with fire knife dancing and Hawaiian hula show performed by all cast members along with the singers.
Rock-a-Hula's composition is very sensible with all the elements that make up Hawaii are smartly put together one by one. Instead of solely focusing on traditions of a simple Hawaiian-style shows, Rock-a-Hula mixes modern day Hawaii and its culture and history to the show's theme.  Just about anyone will be able to enjoy the full experiences of Hawaii while watching the show. 
The dinner package at Rock-a-Hula includes Luau menu.  Before watching the performance, let's briefly learn about luaus.
Luau is a Hawaiian festival/feast/party that consists of entertainment, dance and music along with food and drinks.  The event includes traditional Hawaiian cuisine, like poi, kalua pig, long rice, Laulau, lomi-lomi salmon, haupia, poke, and coconut dessert, as well as arts and crafts demonstrations, traditional games, and live entertainment. Also includes music and more. Luaus are mostly outdoor activities. Polynesian traditional show and fire knife dance are some of the must-have components in the luaus.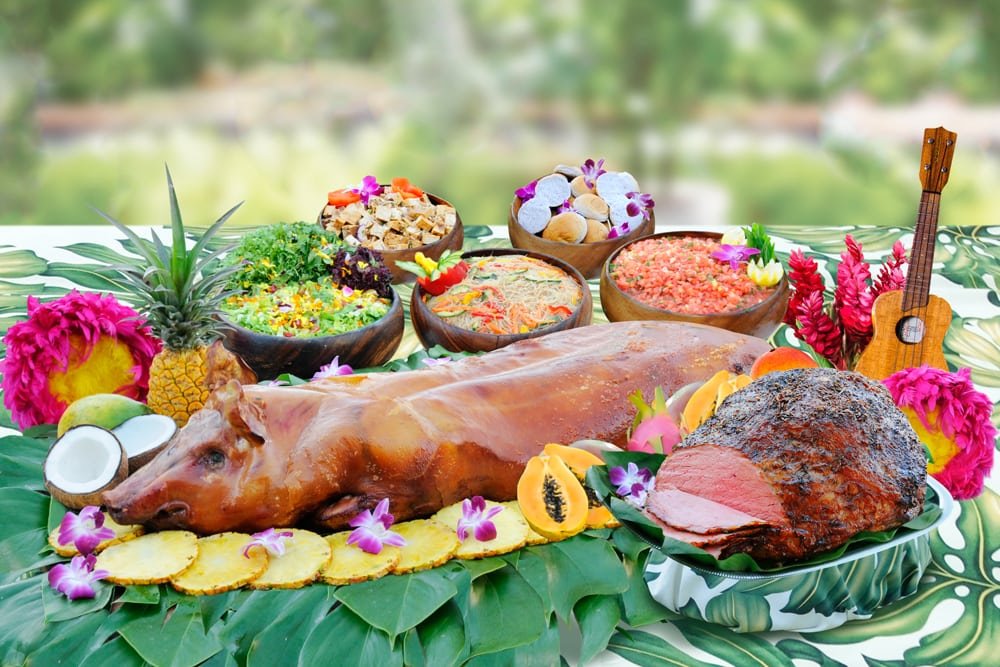 Food is one of the most important components of a luau. Rock-a-Hula does offer show-only ticket without including dinner. Aside from show-only tickets, all the dinner buffet options include a traditional luau.
Rock-a-Hula is a great choice if you want to plan something interesting for an evening within Waikiki. You get best of both when you buy tickets for the dinner + show package. You get to experience traditional Hawaii luau plus exciting Hawaii theme entertainment and live show. For the price you pay, it is worth every penny.
However, if you decide to dine elsewhere, you can always just buy the show ticket for your evening entertainment.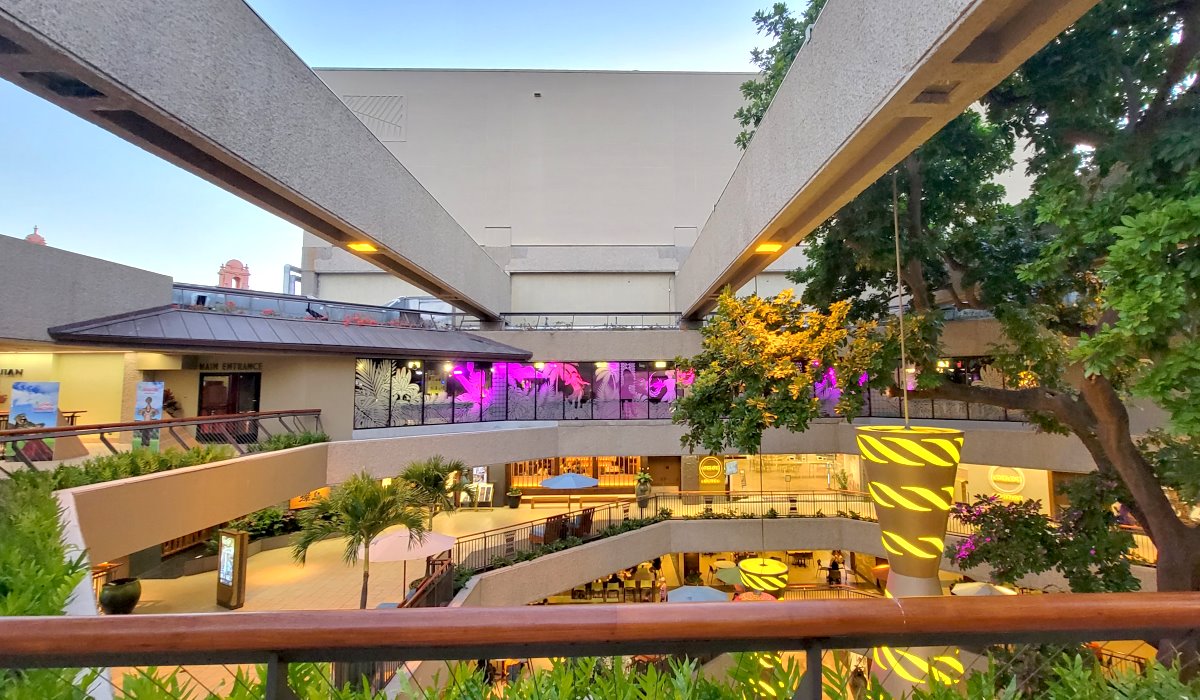 Rock-a-Hula is located on the 4th floor of Royal Hawaiian Shopping Center, which is at the heart of Waikiki. From Kalakaua Ave, Royal Hawaiian Center is by the front of Sheraton Waikiki Hotel, Royal Hawaiian Hotel, Trump and Halekulani. To the right, Outrigger Waikiki Hotel and Westin Moana Surfrider Hotel. Major hotels such as Hyatt Regency Waikiki, Waikiki Beach Marriott, and Alohilani Hotel are located within a block or two of each other. It is not too far from other hotels. If you are staying in Waikiki, Royal Hawaiian is conveniently accessible from anywhere by foot.
Outdoor Pavilion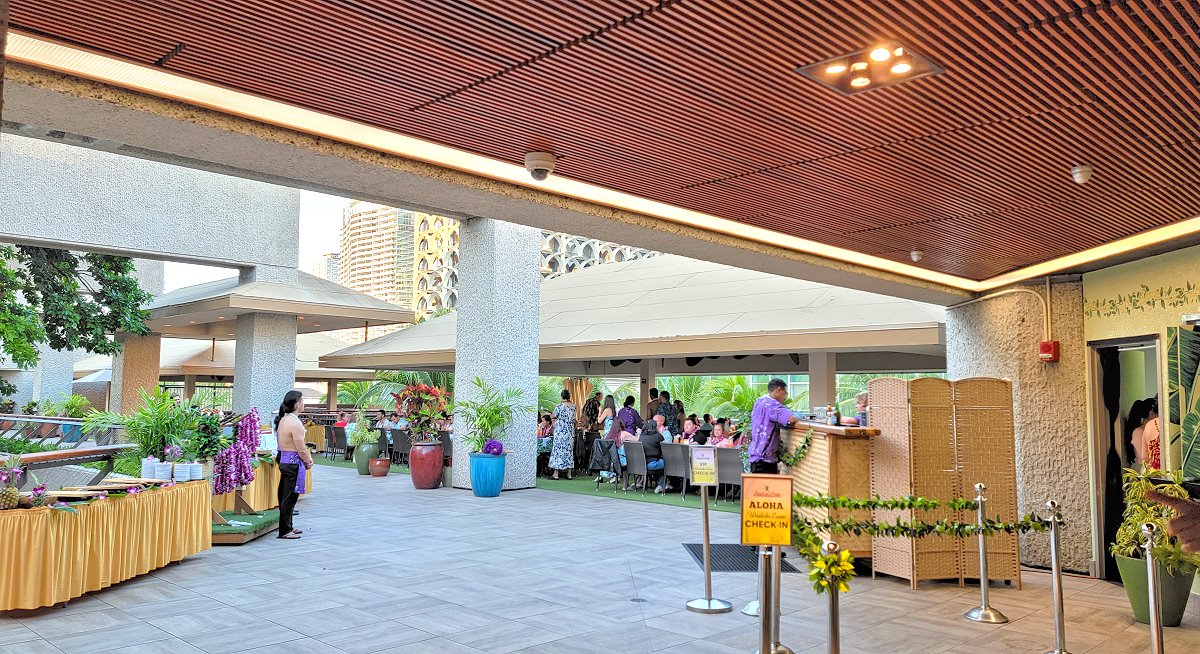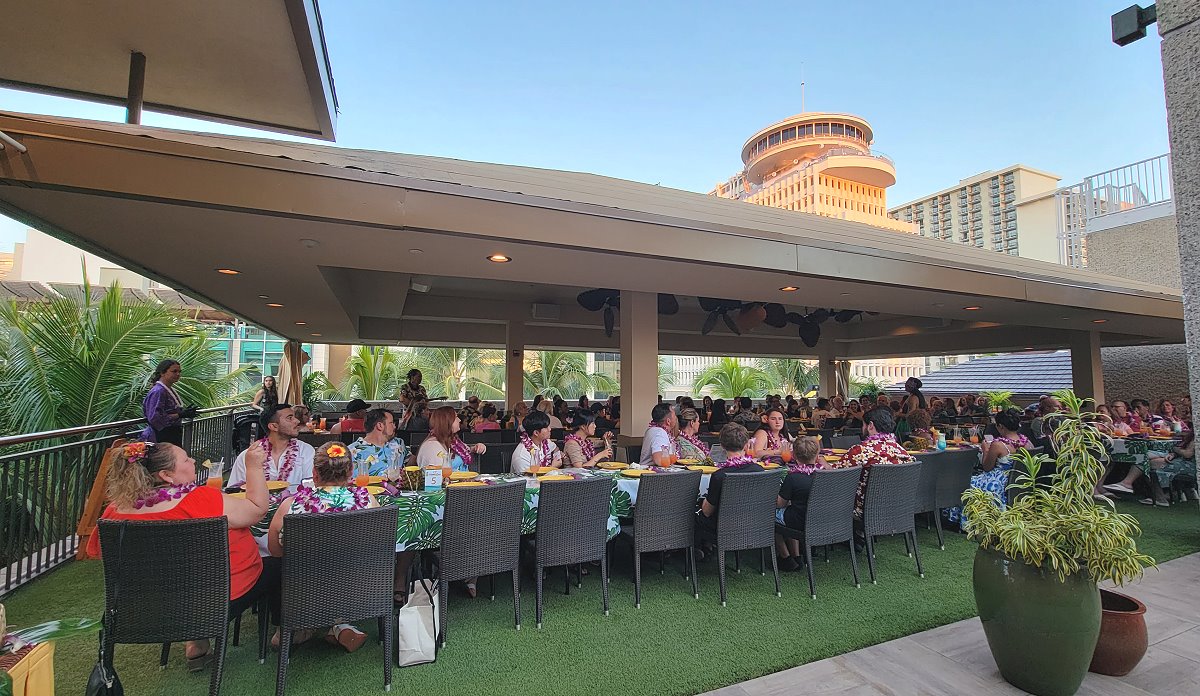 When you get to the 4th floor of Royal Hawaiian Shopping Center, you will see an open-space pavilion. There are tables set up for the dinner package guests. Upon arrival, proceed to check in, and you will be escorted to your table.
If you purchase a VIP Luau ticket, you will be greeted with a flower lei as pictured below.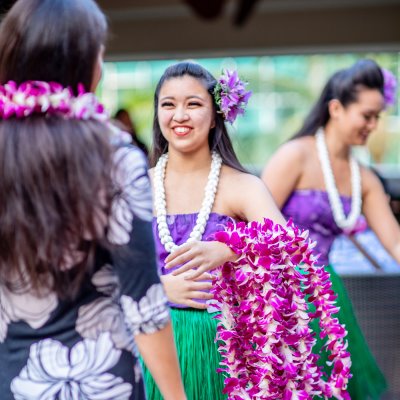 The event begins with something unique to Hawaii. Pineapples are placed on the table like this (see picture below). Pineapple is one of the representative fruits of Hawaii that is exported to the world as Hawaii's climate is perfect for pineapple production.
Mai Tai
When you are seated, a welcome Mai Tai cocktail is served first. Mai Tai is a signature cocktail in Hawaii. Mai Tai is popular as it originated in Hawaii. The original Mai Tai cocktail is said to have been created by Victor Bergeron at Trader Vic's restaurant in Oakland, California and was introduced to Hawaii in 1953. The very first location Mai Tai was first served is Royal Hawaiian Hotel. The hotel's signature bar is named after Mai Tai and is popular among locals and visitors.
Today, the Mai Tai is one of the most respected and popular cocktails in Hawaii. So, if you go to Hawaii, be sure to try one! It is becoming one of the must-have items to try when visiting Hawaii.
Luau dinner menu
The highlight of the meal: the signature luau dish, the roast suckling pig.
Originally, in a traditional luau setting, a pig is roasted in a Hawaiian fire pit dug into the ground, and a celebration ceremony (Imu) is held before everyone partakes of the pig . Imu ceremony is not included. However, a roasted BBQ whole pig is laid out nicely on the buffet table as pictured below. This well-cooked whole pig is cooked to crispy and savory. The pig is indispensable to the festival, although may be a bit strange but interesting.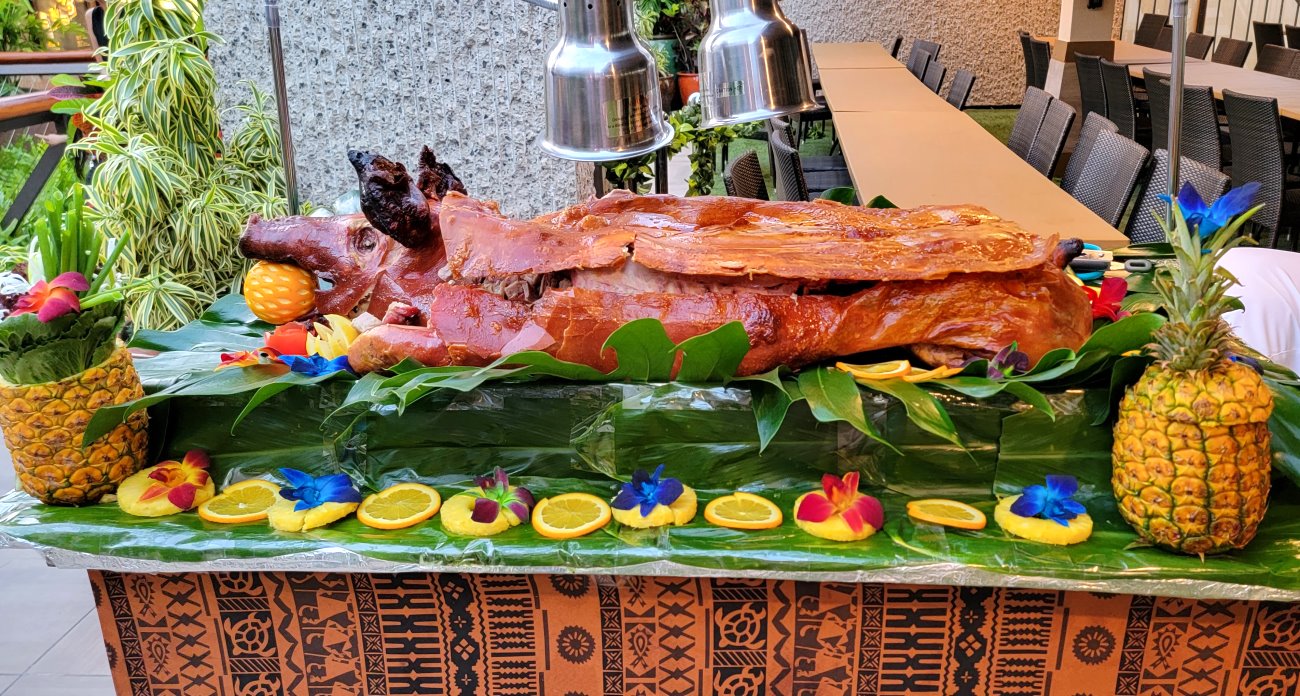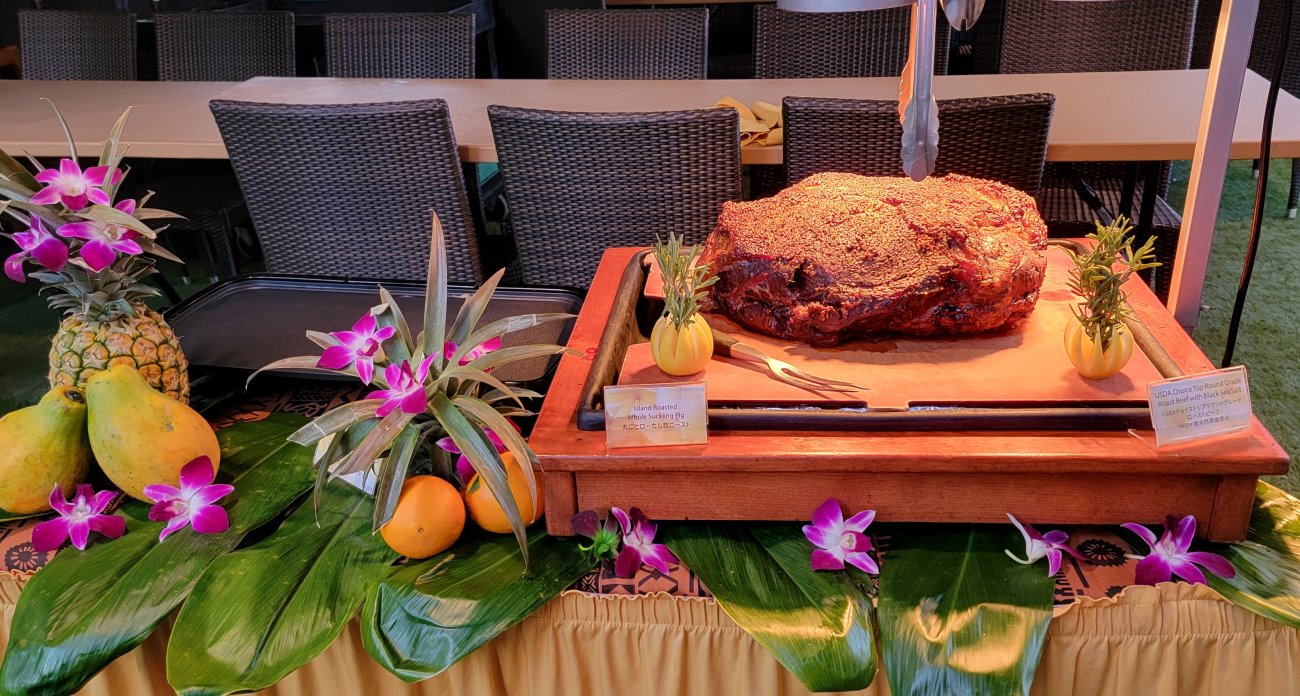 The main meat dishes of the dinner buffet are the whole pork and roast beef.  Other menus include lomi lomi salmon, which is a traditional Hawaiian menu made with salmon and tomatoes as the main ingredients.  At first glance, this refreshingly colored dish looks like a salad. It is also famous as a representative taste of Hawaii. In addition, there is the purple taro roll. This bread is made with taro and is savory and delicious. Taro was one of the staples of Native Hawaiian diets and still is an integral part of Hawaiian culture. Taro is very often included in all traditional Hawaiian cuisine.
Luau Buffet Manu
Whole Island Pig Roast

USDA Choice Premium Round Grade Roast Beef Teriyaki with Black Sea Salt Teriyaki

Glazed Chicken

Pickles Macadamia Crust Fish of the Day with Ginger Bourre Blanc

Roasted Uala Sweet Potato*

Vegetarian Fried Rice* (or Vegetarian Noodles & Rice)

Hawaiian Vegetable Mix with Grape Tomato *

Homemade Papaya & Lilikoi

Dressing Irish Macaroni Potato Salad

Homemade Lomilomi Salmon Tofu

Poke *

Freshly Baked Taro Rolls with Butter from Elvin's Bakery Seasonal

Fresh Fruit Platter *

Chocolate Tobashi Cake

Coconut Haupia Rainbow

at IL Gelato Sorbet*

Kona Coffee
Exciting and enjoyable performance, Rocka Hula Show!
Rock-a-Hula is going on its 12th year this year, and boasts the largest scale performance in Waikiki. Looking at the venue, you can feel at a glance that it is a place equipped with the most advanced technology. It is a stepped theater structure with optimal conditions for opera or musical performances that are difficult to find anywhere else in Hawaii. As soon as the performance starts, you feel like a thrill, and the state-of-the-art lighting system is magnificent with powerful sound system.
The performance comprises of various dances and songs along with colorful music and lighting in the background, which captivate the audience. The total performance time is 70 minutes. You will completely immerse yourself in the show without realizing the passing minute. I think this is enough to make the performance fun enough for everyone, regardless of gender or age.
Tour options price
Rockin' Show Only (dinner not included)

Original Waikiki Luau: Adult $130 / Child $78 (ages 3-11) *includes dinner & show + regular seating

VIP Waikiki Luau: Adult $162 / Child $98 (3-11 years old): *Includes Dinner & Show + VIP Seating

Green Waikiki Luau: Adult $216 / Child $130 (ages 3-11) *Includes Dinner & Show + VIP Seating + Green Room Reception & Tour
*All rates include tax (transportation to the show site is not included)
The performance that takes you back to Hawaii's 1920s~
In the early 1900s, immigrants came to Hawaii en masse. That was the beginning of modern Hawaiian culture to be recognized worldwide. Rock-a-Hula begins with performances reflecting Hawaii's 1920s to the present day. Themes involve sea, surfing, Aloha Tower, and hula dancing, which are all Hawaii's iconic modern history symbols. Vintage black and white newsreels are played along with movie posters filmed in Hawaii shown on two huge screens, all of which are expressed through the Aloha songs and dances. The performance of the hula dancer team is very remarkable.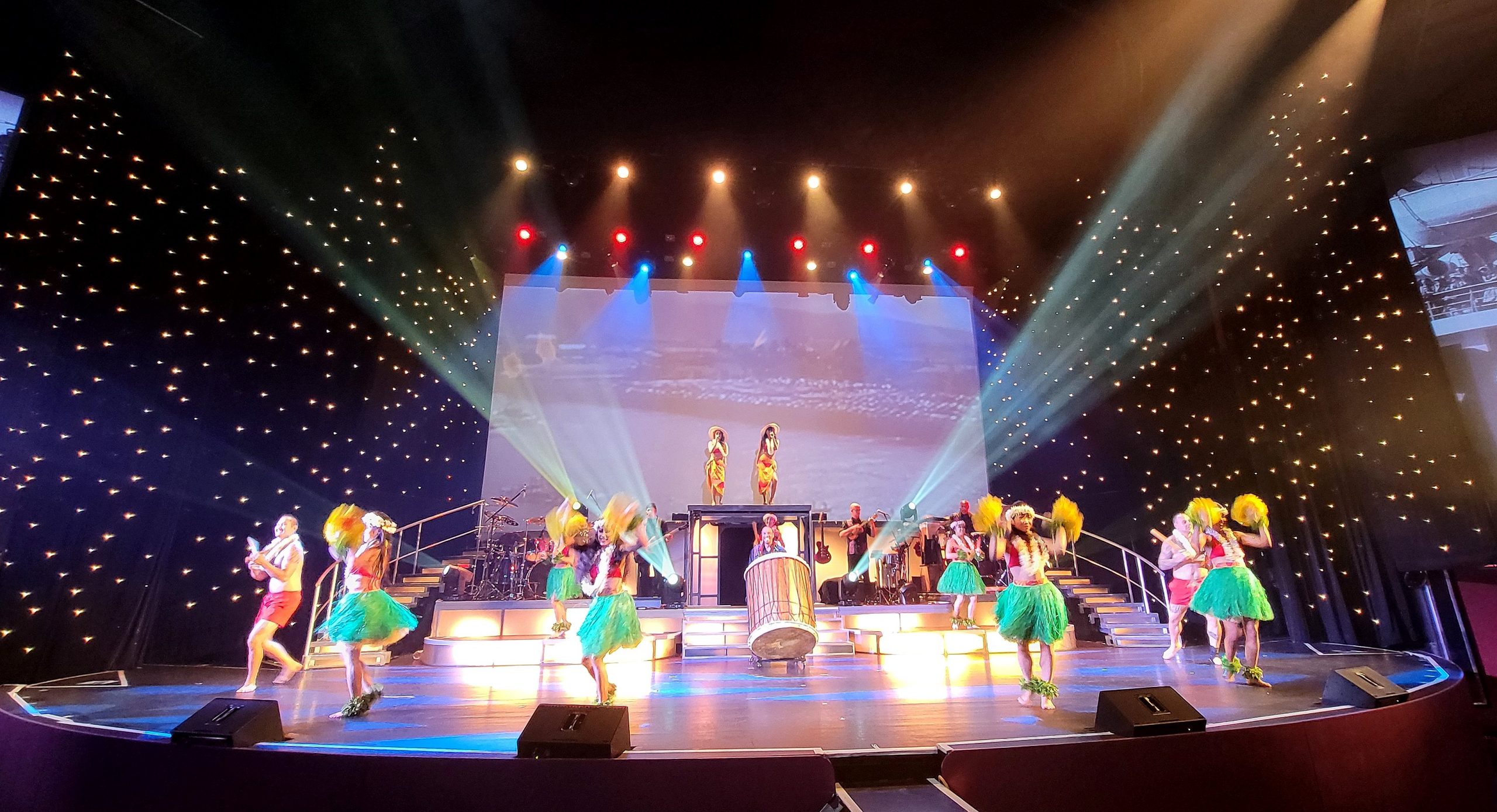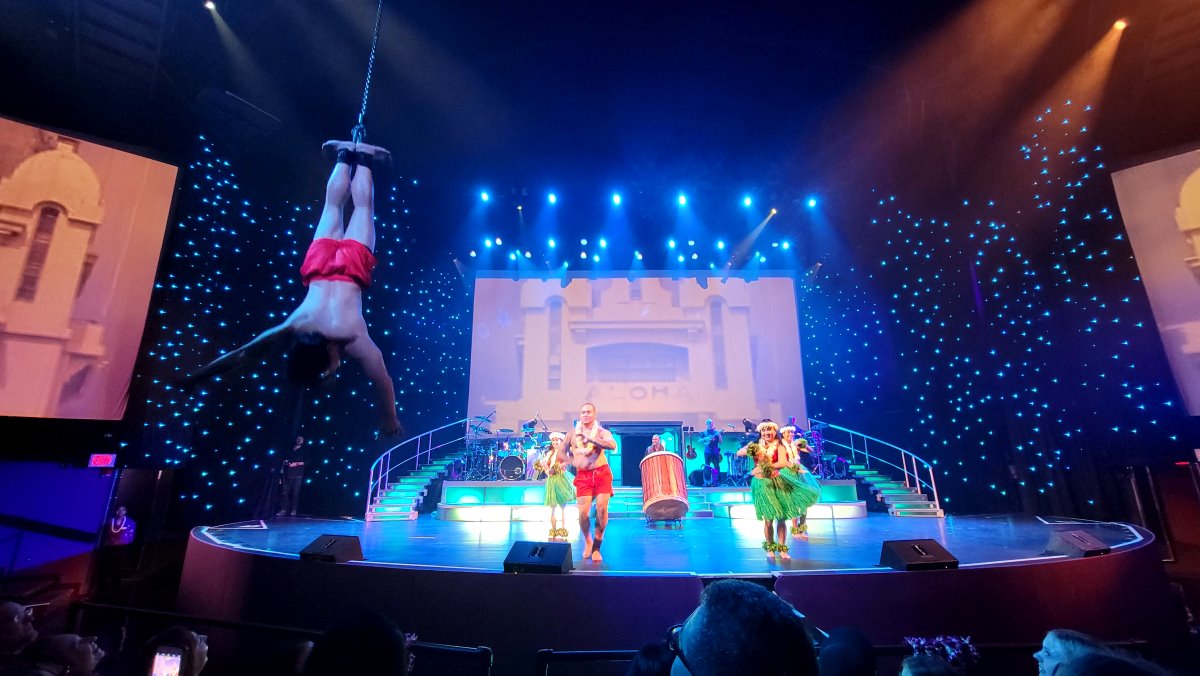 Elvis Presley's impersonator performance!
The King of Rock and Roll, Elvis Presley, had a deep connection to Hawaii. These days, the younger generation may not really feel the full story of Elvis' life or his enormous fame, but they will still be familiar with and moved by Elvis' music. A great hero of an era. Before the entrance of Elvis Presley's impersonator, the intense sound of large drums fill the venue.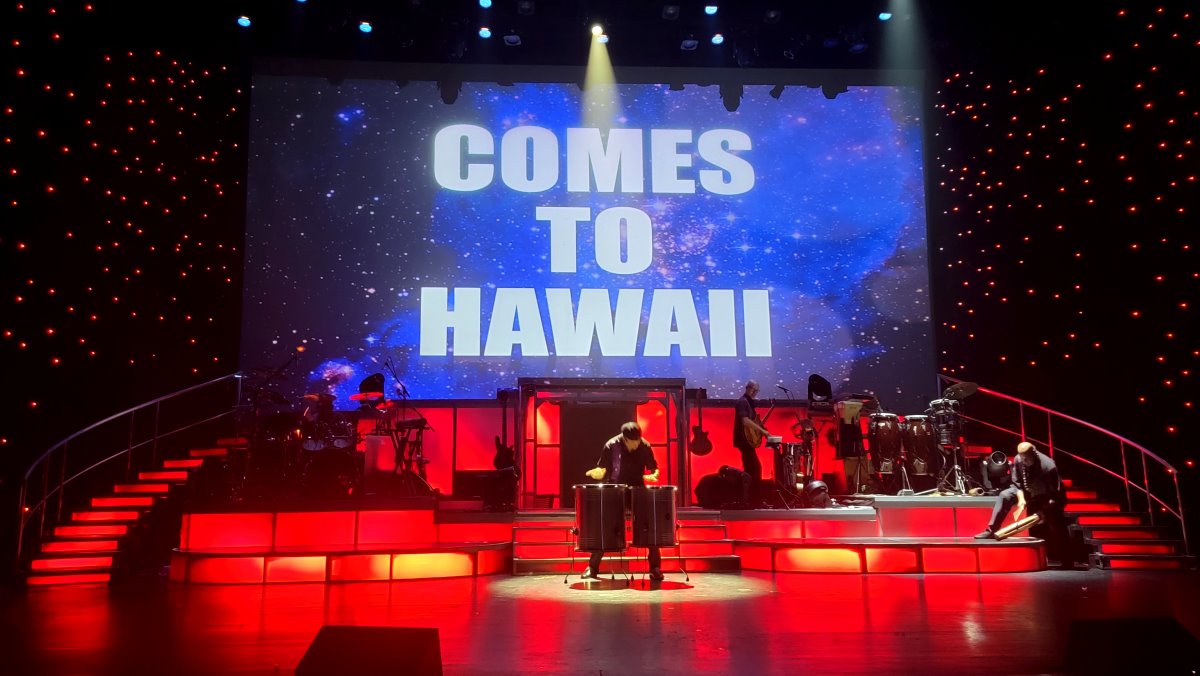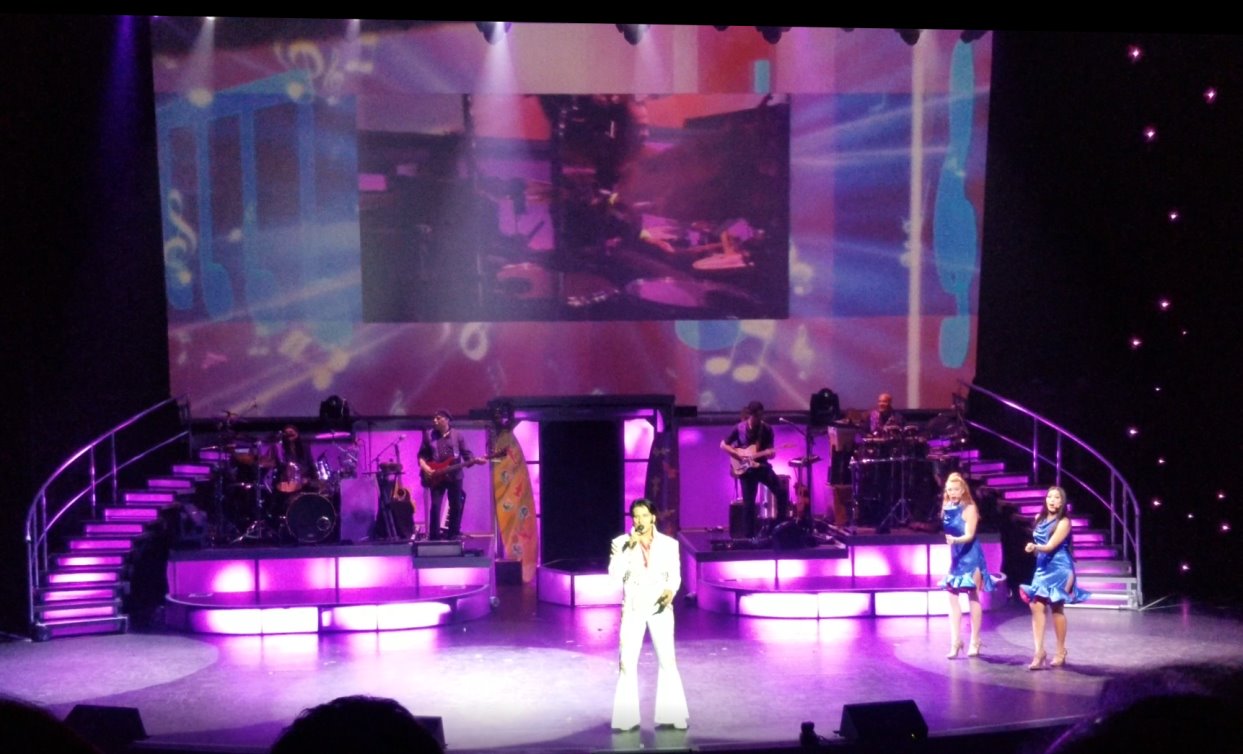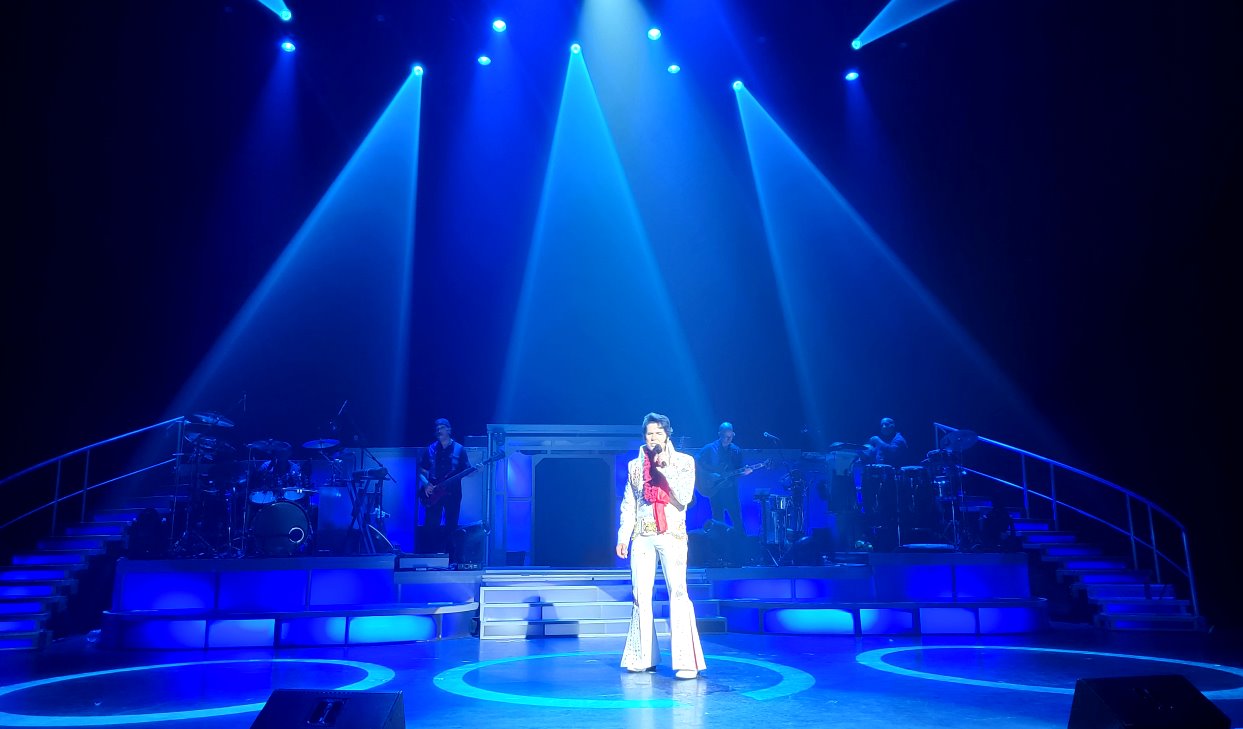 The return of the King! Elvis and his deep relationship to Hawaii dates back to 1957. After his first successful performance in Hawaii, he traveled to Hawaii for vacations and held concerts and films for the next 30 years. Elvis made three Hawaiian films – Blue Hawaii, Girls Girls Girls, and Paradise Hawaiian Style – and by 1973 had nine concerts. And the most important event among them was Elvis' Hawaii concert <Elvis, Aloha from Hawaii> in January 1973  which was televised worldwide.
You can see the real Elvis perform on the big screen while the impersonator fill the stage in Elvis' signature costume. Even though generations and times have changed, watching the amazing and fantastic performance of Elvis delivers wide array of emotions.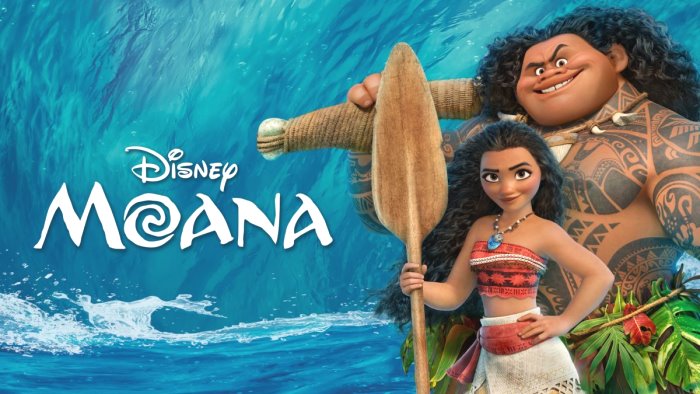 And the two most touching performances. The singers perform 'How Fair I will Go' from the movie Moana and 'Over the Rainbow' by the famous 340kg giant Hawaiian Israel 'Iz' Kamakawiole.  Iz left behind this beautiful masterpiece that is played everywhere in Hawaii. He passed away at the young age of 38.
When these two songs fill the venue, you are bound to get emotional. The lyrics and tunes truly represent all the beautiful things of Hawaii. In particular, 'Over the Rainbow' by Iz really brings tears to many people.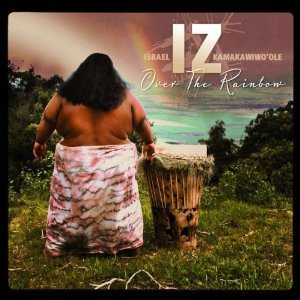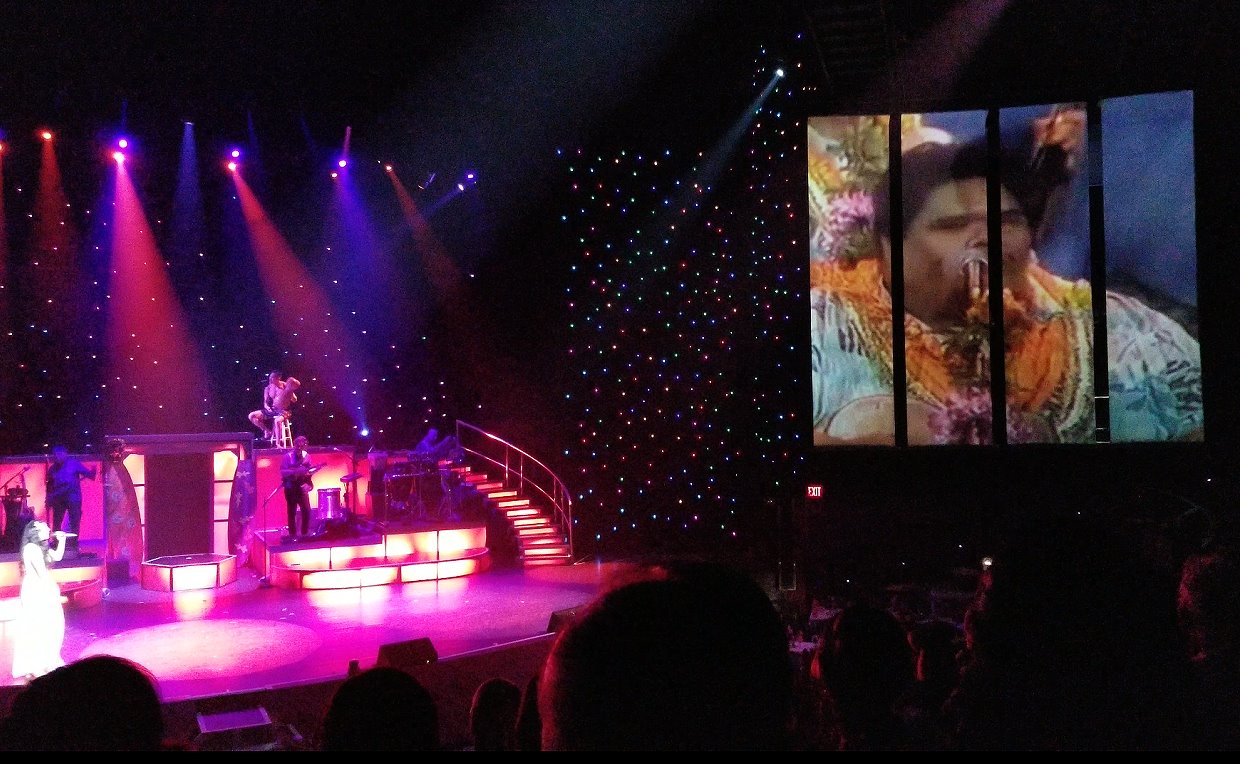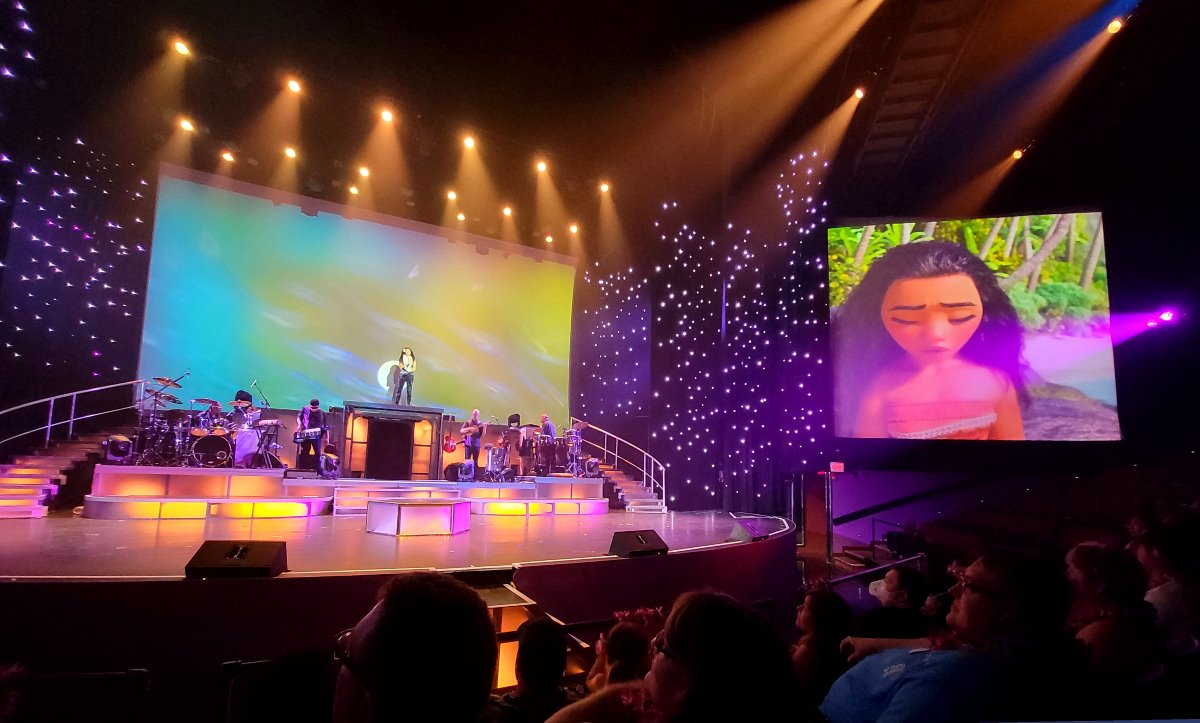 After your ears are filled with sweet tunes, Michael Jackson's impersonator enters the stage to deliver his exciting and exhilarating performance. The impersonator sings and dance to Michael Jackson's most iconic songs and moves. The performance during 'Billie Jean' and 'Thriller' replicates the music videos; truly exciting to watch.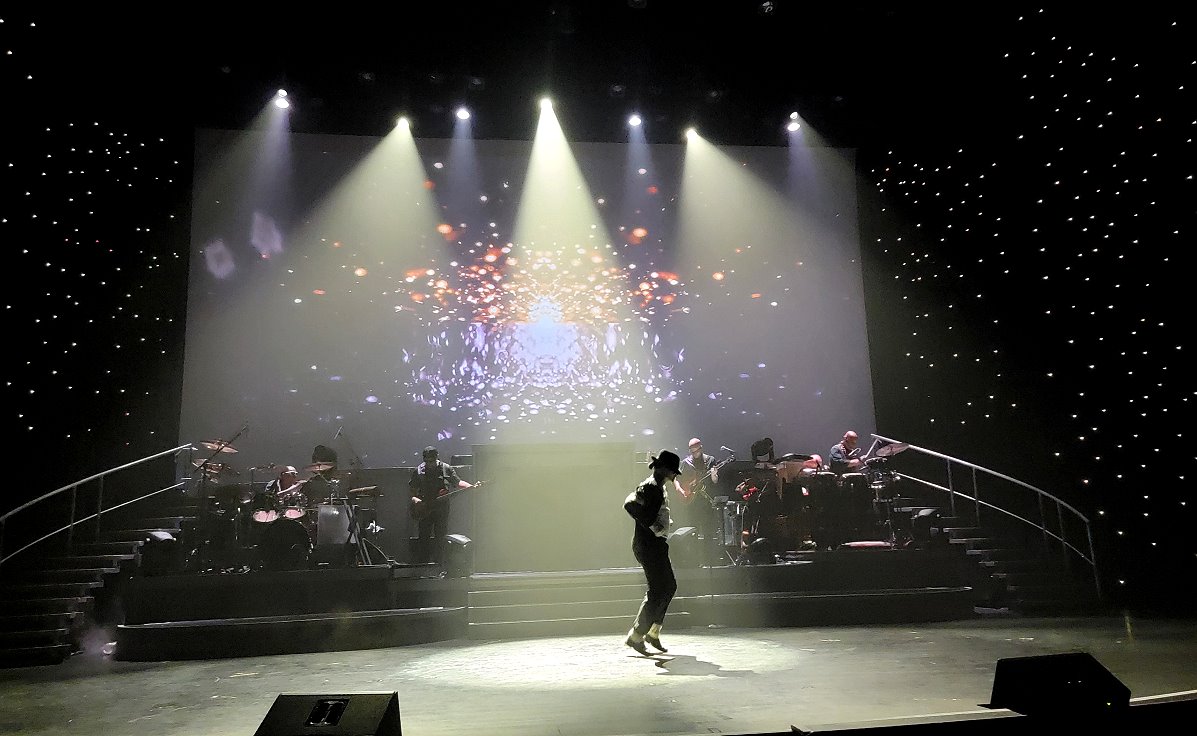 Plus a performance expressing the volcanoes of Hawaii and Pele, the goddess of fire who lives in the volcanoes.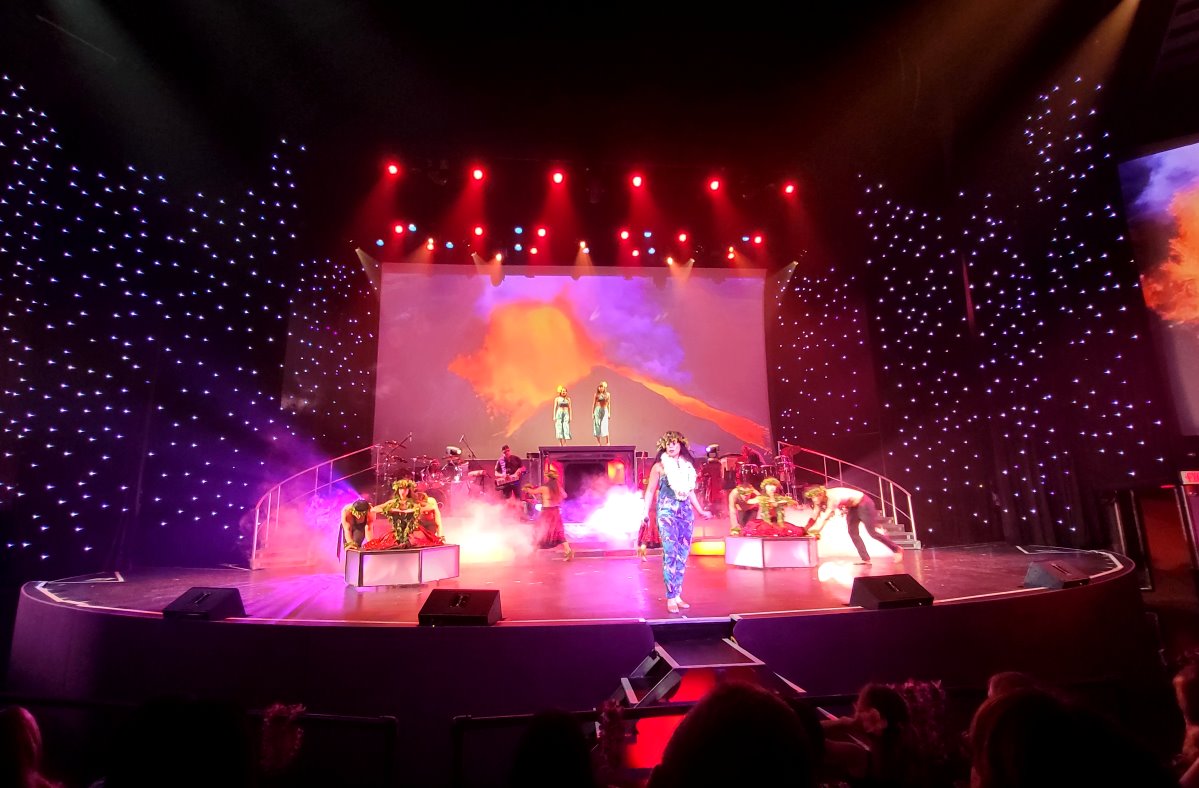 Finally, the show's highlight and also the last act, Fire Knife Dance!
In a traditional Hawaiian show, Fire Knife Dance is the final highlight. The Fire Knife Dance is a Samoan tradition that has been passed down from generation to generation and is said to have started as a knife dance. They were used as a way to empower warriors for war before going into battle. In a way, this fire dance, which is primitive, masculine, powerful, and also shows off its skills, originated in Samoa but is one of the historical traditional rituals performed in the Pacific region, including New Zealand, Samoa, Tahiti, and Hawaii. It was performed as part of a festive ritual and is still performed as a ritual with a meaning of celebration in a practice that has been handed down to the present day.                         
The method is to hold a knife, wrap it with a towel on both sides, set it on fire, and then turn the knife to perform a fireworks performance. It is called a fire dance because the fire knife is turned and thrown in circle. The fire dance shows a spectacular performance through the dancer's rhythmic and fast rotation and intense dance with the magnificent drum sound you can enjoy.  
This fire knife dance is the hottest performance of the luau, and it decorates the end of any luau show splendidly. You can't call it a proper luau show without one. The fire dance performance of the Rock a Hula is also spectacular to the point of being close to perfection. The drum sounds are magnificent and the fire dancers are top-notch. Moving and rotating with the fire on both ends of the knife in quick motion is very cool to watch. In particular, the moment when the fire is lit on the floor and turned off in an instant is so fast that it seems like you would miss it if you blinked your eyes for a moment.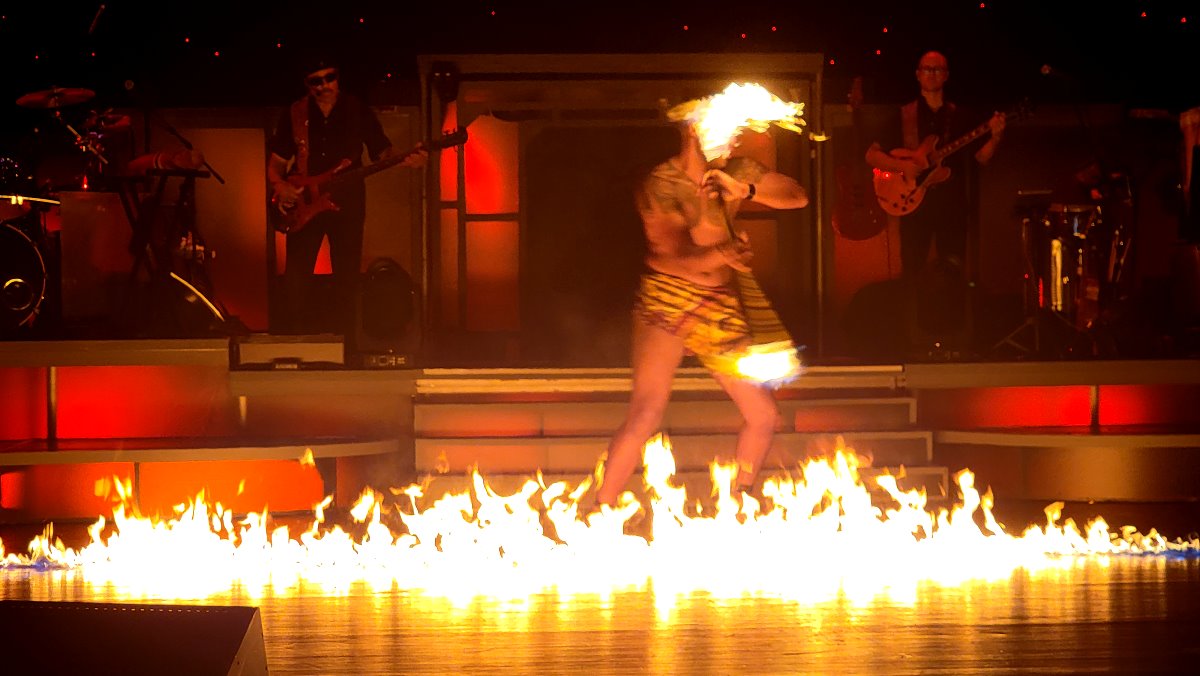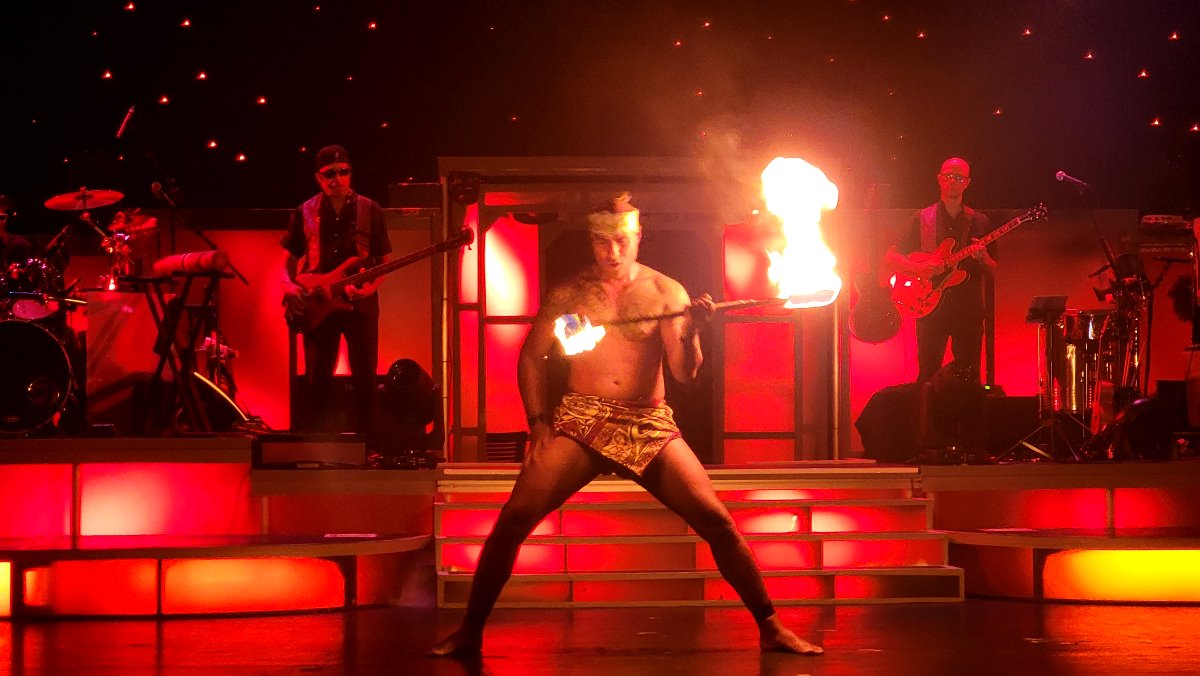 And now the real final! All the cast members come out together and say their final goodbyes in their most flashy costumes and performance.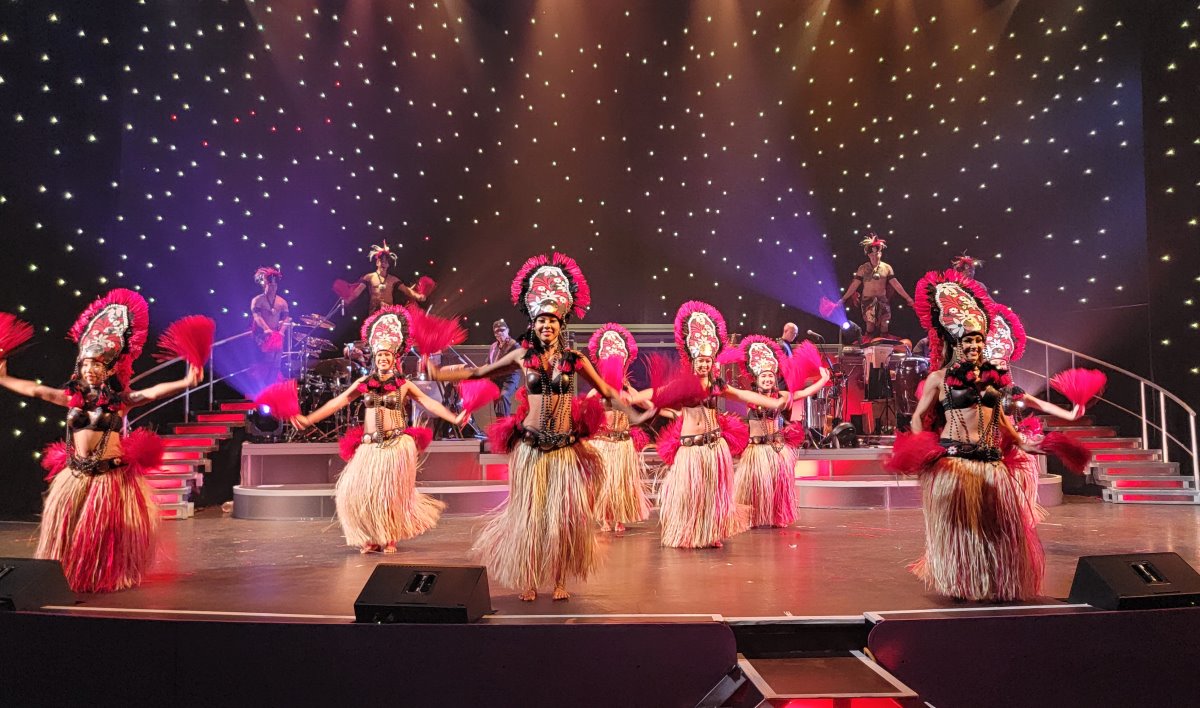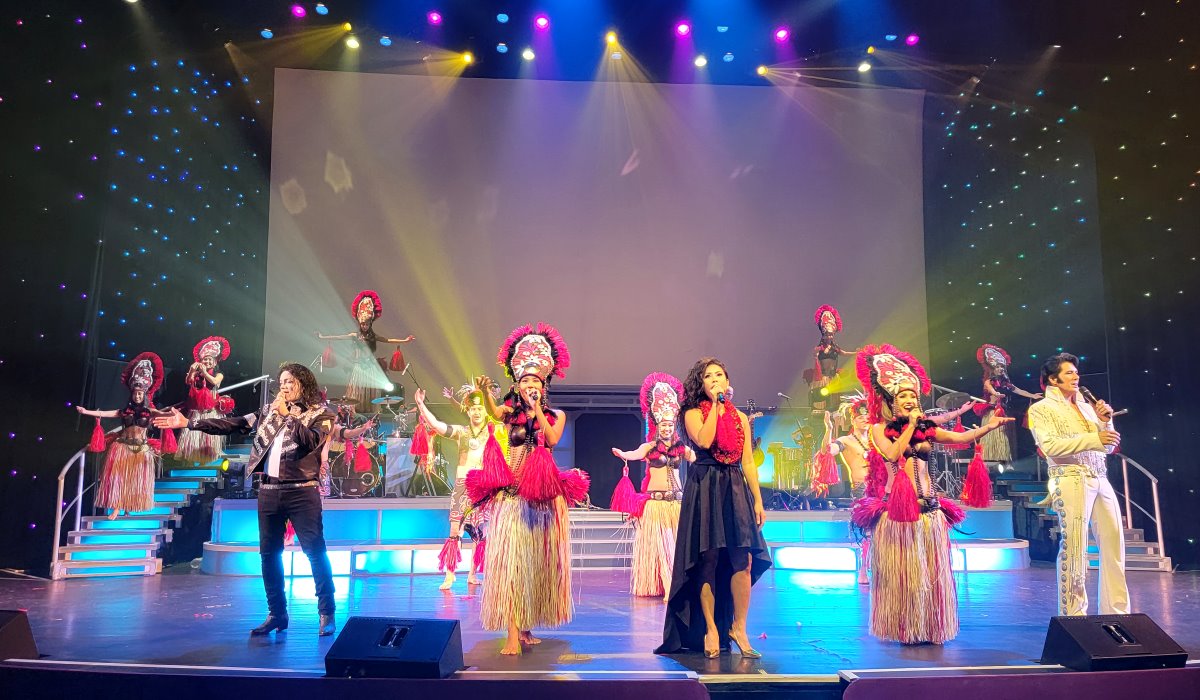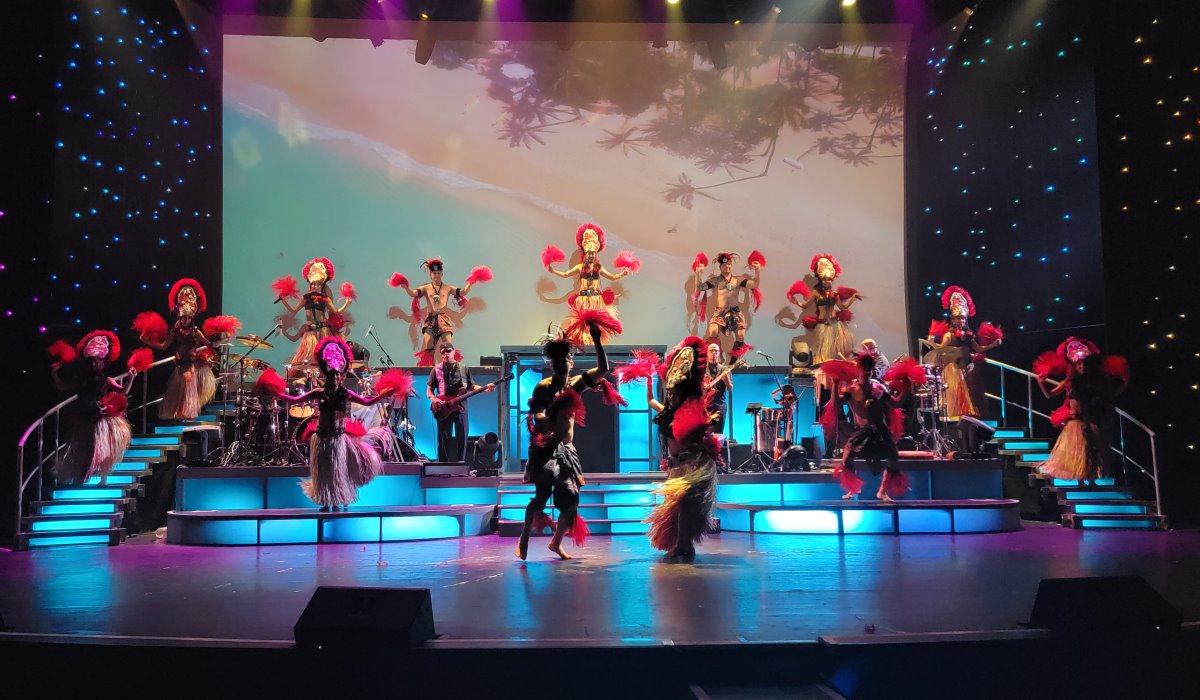 This exciting performance comes to an end.
And when you leave the theater, Michael Jackson and Elvis are waiting for you for meet and greet.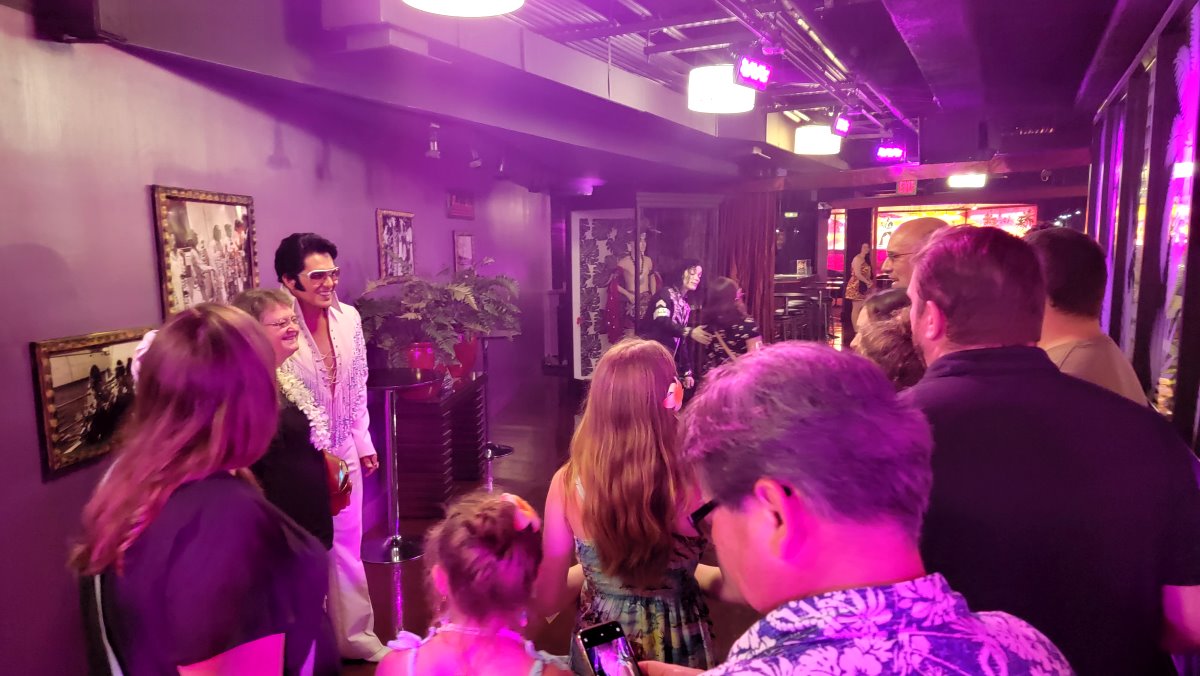 Rock a Hula – Review
Pros: Rock-a-Hula offers both food and entertainment in Waikiki. The dinner+show packages are worth your money because you get decent dinner and spectacular show. It is also conveniently located in the center of Waikiki, so you don't have to go far to see the show.   Cons:  unlike other luau shows, Rock-a-Hula luau is not held at a beach or an outdoor venue, and the performances are fusion entertainment, not traditional Polynesian shows or classic pure hula performances.
Still, if you've traveled all the way to Hawaii, you can't miss a hula/fire show. You should at least try and experience a Hawaiian luau once when visiting Hawaii.